Dinosaur Jewellery - A look at our 'Jurassica' collection
Posted by LittleMoose on June 19, 2015
We're delighted to bring you our new collection of fun and quirky dinosaur jewellery. We've called it 'Jurassica'...
With the launch of Jurassic World, and what with this being Jurassic June, we thought we'd highlight our brand new 'Jurassica' collection which features big, playful statement necklaces, quirky easy-to-wear dinosaur earrings and fashionable gold ammonite pieces. You've never seen dinosaur jewellery like this before!
We've always been big dinosaur fans, but we wanted to do something different with our own collection of dinosaur jewellery. We set about furiously scribbling down ideas, a few of which you can see below - some of these even became our finalised products. We quickly settled upon the long necked Apatosaurus and iconic Stegosaurus as the two stars of the collection. Our Ammonites came about later...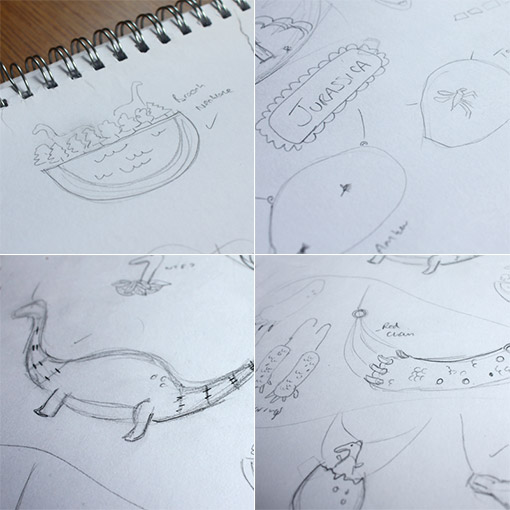 One idea we came up with really shaped the collection, we were really keen on creating a giant, articulated Apatosaurus necklace, and the idea of 'movement' became a key theme, as we introduced our dangly legged brooches and mini Apatosaurus necklace.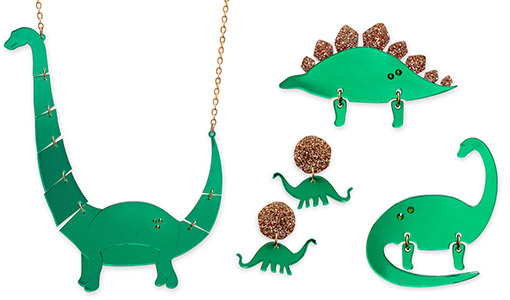 Tagged as: dinosaur jewellery | dinosaurs | stegosaurus jewellery | stegosaurus |